NUC 9 Pro
NUC9v7QNX Full
Now Shipping
9th Gen Intel® i7-9850H
Cores 6, Threads 12
Intel® UHD Graphics 630
Passmark Coming Soon...
Base CPU Frequency
2.6 GHz
Turbo Boost
4.6 GHz Turbo
Cores & Threads
Cores 6, Threads 12
Graphics
Intel® UHD Graphics 630
Networking
2x Intel® 10/100/1000 Mbps, Intel® Wi-Fi 6 AX200 2.4Gbps, Bluetooth v5
Max Resolution
3840 x 2160
Video Output
1x HDMI 2.0a connector
I/O
4x USB 3.1 Gen2 Type-A connectors, 2x USB 3.1 Gen2 Type-A connectors (enclosed), 2x Thunderbolt 3 ports
COMPACT WORKSTATION, FULL-SIZED WORKHORSE
Housed in a 5-liter chassis that's got 500 watts of on-board power for dual width desktop graphics cards and an Intel® Core™ i7 vPro® processor, the Intel® NUC 9 Pro (Quartz Canyon) is designed as the smallest workstation available to support desktop graphics, giving you unsurpassed performance in a chassis that can sit on a desktop or behind a monitor. Certified to run more than 20 professional applications, whether you're using AutoCAD to design a new building or running a financial quantitative analysis, Quartz Canyon makes graphically demanding tasks easy.
9TH GEN PROCESSING POWER
Introducing the first Intel® Xeon® NUC with 8 cores, providing uncompromised performance in unconventional packaging. With SKU options including Intel® Xeon® and Intel® Core™ i7 processors, both featuring Intel® vPro™ technology, and support for up to 64 GB of high speed DDR4 RAM, you have more CPU power than ever in a NUC form factor. Combine this with desktop discrete graphics, Thunderbolt™ 3, DisplayPort, and HDMI capability for your optimal workstation experience in impressively tiny form factor.
RENDER YOUR TOUGHEST TASKS WITH EASE
Quartz Canyon has room for your latest desktop graphics, two Thunderbolt™ 3 ports for fast data transfer, and is the first Intel NUC workstation able to handle content creation tasks, data visualization, and AI learning and inference. Rest assured knowing that this workstation has been qualified for 24/7 operation, supports ECC memory (Xeon SKU only) to prevent data corruption, and is tested with more than 20 professional applications. And with Intel® vPro™ technology, issues can be fixed whether you're in the office or working remote. Intended usages include CAD design, financial analysis, medical imaging, real-time simulations, and commercial quality post-production.
9th Generation Intel® CoreTM i7-9850H
Intel® UHD Graphics 630
Dual channel DDR4 SODIMMs max 64GB @ 2400 MHz or 32GB @ 2666 MHz
3x M.2 key M slots
internal front audio panel
2x internal USB 3.1 headers
2x internal USB 2.0 headers
Intel® Wi-Fi 6 AX200 2.4 Gbps (i219-LM and i210-AT), Bluetooth v5
2x front USB 3.1
SDXC slot with UHS-II support
Kensington lock with panel security
4x rear USB 3.1
2x Intel® 10/100/1000 Mbps (i219-LM and i210-AT) Ethernet ports
HDMI 2.0a
2 Thunderbolt 3
3.5mm rear speaker / TOSLINK combo jack
PCIe x16 slot with 6+2-pin & 6-pin PCIe power connectors, up to 225W, up to 8" card length, double-width capable
PCIe x4 slot
500W internal power supply
Product Brief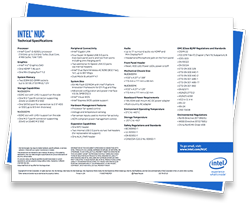 Related products
Customers who viewed this product also liked: