NUC 9 Extreme
NUC9i7QNX Full
Now Shipping
9th Gen Intel® Core i7-9750H
Cores 6, Threads 12
Intel® UHD Graphics 630
Passmark Coming Soon...
NUCNUC9i7QNX
NUC 9 Extreme
Base CPU Frequency
2.60 GHz
Turbo Boost
4.50 GHz Turbo
Cores & Threads
Cores 6, Threads 12
Graphics
Intel® UHD Graphics 630
Networking
2x Intel® 10/100/1000 Mbps, Intel® Wi-Fi 6 AX200 2.4Gbps, Bluetooth v5
Max Resolution
3840 x 2160
Video Output
1x HDMI 2.0a connector
I/O
4x USB 3.1 Gen2 Type-A connectors, 2x USB 3.1 Gen2 Type-A connectors (enclosed), 2x Thunderbolt 3 ports
DISRUPTING THE GAMING INDUSTRY
Enjoy portable desktop performance in a small form factor with a 500W internal power supply. Ghost Canyon is the first modular NUC including compute blade options with configurable memory and storage. And a PCIe x16 slot supports desktop discrete graphics, with performance levels up to NVIDIA GeForce RTX 2070. An additional x4 slot can accommodate add-in cards for additional features and performance. Like a ghost on your desk – this mini gaming machine is thermally cool, extremely quiet, and disruptively small.
9TH GEN PROCESSING POWER
Powered by an Intel® Core™ i7 NUC with 6 (4) cores, Ghost Canyon provides solid performance for gaming and
content creation. With an Intel® Core™ i7 and support for up to 64 GB of high speed DDR4 RAM, you have ample
CPU power in a NUC form factor. Combine this with desktop discrete graphics, Thunderbolt™ 3, DisplayPort, and HDMI
capability for your optimal visual experience and up to six 4K displays.
GAME, CREATE, & WATCH IN 4K
Ghost Canyon will provide brilliant 4K and VR experiences at home. You can watch theater-quality videos, grab a game
controller and answer the call of duty, or immerse yourself in a VR world of choice. You also have the performance you
need to create content without having to wait as your video and images render. And with Ghost Canyon connect your
Intel® NUC to a WiFi device for rich visuals and audio without the clutter of cables.
9th Generation Intel® Core i7-9750H
Intel® UHD Graphics 630
Dual channel DDR4 SODIMMs max 64GB @ 2666 MHz
3x M.2 key M slots
internal front audio panel
2x internal USB 3.1 headers
2x internal USB 2.0 headers
Intel® Wi-Fi 6 AX200 2.4 Gbps (i219-LM and i210-AT), Bluetooth v5
2x front USB 3.1
SDXC slot with UHS-II support
Kensington lock with panel security
4x rear USB 3.1
2x Intel® 10/100/1000 Mbps (i219-LM and i210-AT) Ethernet ports
HDMI 2.0a
2 Thunderbolt 3
3.5mm rear speaker / TOSLINK combo jack
PCIe x16 slot with 6+2-pin & 6-pin PCIe power connectors, up to 225W, up to 8" card length, double-width capable
PCIe x4 slot
500W internal power supply
Product Brief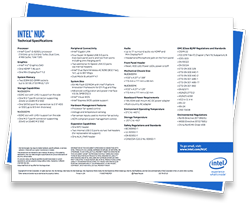 Related products
Customers who viewed this product also liked: